ourWorld is a 2D browser based social MMO filled with minigames and other activities. Create an avatar using varied appearance options, articles of clothing, and other accessories. Play games, meet people, and look good in ourWorld!
Publisher: FlowPlay
Playerbase: High
Graphics: Medium
Type: MMO
EXP Rate: Medium
PvP: N/A
Filesize: N/A
Pros: +Dozens of varied minigames. +In-depth character customization. +Player housing. +Play without registration.
Cons: -Lots of ads and commercials. -Limited gameplay beyond casual games and socializing. -Caters mainly to young girls.
Overview
ourWorld Overview
OurWorld is a browser based social game with plenty of content. Players can customize their avatar freely and acquire new articles of clothing and accessories in a variety of ways. Access to new areas, dance moves, and features are unlocked as players level up which gives the game a sense of progression. Our World has dozens of minigames available, including several exclusives and PopCap games.
Minigame Categories - Puzzle, Strategy, Arcade, Matching, Action
PopCap Arcade - Plants vs Zombies, Zuma, Bejeweled 2
Exclusives – Critter Garden, Poker Cabana, Rack 'n Roll, Dance Planet, Splatterbox
ourWorld Screenshots
ourWorld Featured Video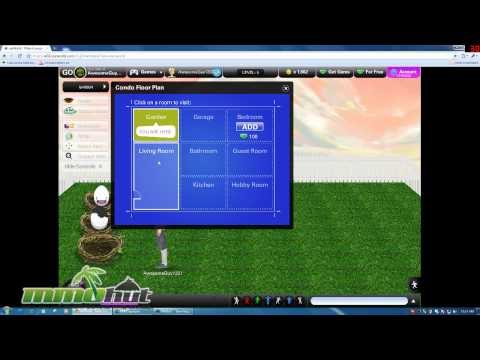 Full Review
ourWorld Full Review
By, Omer Altay
OurWorld is a 2D social MMO by with plenty of content and places to explore. Create an avatar, play mini games, earn gold and meet new people. OurWorld is NOT a hard core MMORPG. It's a game that's meant to be played casually and plays a bit like Gaia Online and SpineWorld. If you're into games like this, then OurWorld just may be worth checking out.
Getting Started
FlowPlay, the company behind OurWorld, made it incredibly easy to jump right into the game. Players can immediately access the game without having to register by simply click the big "play now" button on the game's home page. This allows new players to quickly get a feel for the game without first having to sign up. These guest accounts are limited in what they can do, but players who actually like the game can click on the "Save Character" button on the bottom left of the screen to convert their guest character into an actual one. Players start their adventure in the world of OurWorld in "The Boardwalk" where they can begin socializing or jumping right into the minigames. Players can begin exploring other parts of OurWorld after they gain enough experience to level up. Early on, players will only have access to the BoardWalk, but can unlock "The Pier" at level 2 and "Wonderland" at level 8. Aside from being able to access new areas, leveling up has other perks as well – namely being able to wear new clothes and accessories.
Mini Game Based Progression
Progression in OurWorld pretty much centers around mini games. By playing flash mini games within OurWorld, players will fill up their "Flow" meter on the bottom left of the screen. Each time the meter fills up, players gain "Flow points" which serve as credits in "The Prize Wheel" and "The Bubbler" which are simple games where players basically exchange their Flow for experience, clothing and coins. What makes OurWorld surprisingly fun is that the mini games in it are all extremely high quality.
Obviously there are some lame ones, but I feel that FlowPlay screened out the bad ones and only included the best flash games within the virtual world. On top of the extremely high quality games offered, OurWorld also has a few "premium" PopCap games available such as Plants vs. Zombies and Zuma. Just completing levels in these mini games will begin filling up the flow meter. Things are pretty fast paced early on, as I was able to reach level four in 30 minutes of playing one flash game called "Mechanics" which was incredibly fun.
Earn Coins. Spend Coins.
In the process of exchanging Flow for experience, players will also be rewarded with random amounts of coins and items. Coins can be spent in the game's mall to purchase various items from clothing to furniture for your in game condo. One of my favorite aspects of OurWorld is the game's enormous amount of items for sale in its store. There are literally hundreds of different shirts, pants and accessories. The best part is that most of these items can be purchased with the in game currency – coins. Players who don't want to accumulate the necessary coins to buy some of the spiffy new clothes can use the game's premium currency "Diamonds", which can be purchased for cash. The "mall" in our world has dozens of stores for players to explore as well as an international market, which acts as the game's auction house where players can buy and sell items to each other.
Condo
Each player in OurWorld has a Condo that he or she can begin decorating right away. The game's housing system is actually surprisingly in depth, as there are literally hundreds of different kinds of furniture players can use to furnish their homes. Since players have the ability to place each individual piece of furniture exactly where they want, players have total freedom in how they chose to customize their homes.
Outside of each player's Condo is a "Critter Garden" where players can raise animals in order to sell them for profit in the future. By purchasing and placing eggs inside of nests, players can eventually sell hatched critters for a profit. The entire "Critter Garden" system is quite simple and is just another way for players to earn coins.
The Drawbacks
My biggest complaint with OurWorld is the excessive amount of advertisements inside of the game. Whenever players move to a new area, pick a new game to play or do anything that involves loading, players have to sit through a 15 second or so video commercial. If you're sitting down and playing one game, these ads won't really bother you, but if you're going from one place to another often the ads can get incredibly annoying. One of the perks of being a paying members, also called "residents", is that the ads are skipped. Paying members get a lot of other perks as well, including a larger critter garden, bigger condo, double the flow gain and access to exclusive areas in the game. Another small complaint I have with the game is that there aren't that many areas in the game to explore, but I'm sure FlowPlay will remedy this in the future with updates.
Final Verdict – Good
OurWorld is an exceptional virtual world MMO with an incredible amount of content. The game won't appeal to everyone, but with hundreds of incredibly high quality mini games, an enormous amount of customization options and a solid player housing system, OurWorld is easily one of the best social MMORPGs out there.
Screenshots
ourWorld Screenshots
Links
ourWorld Links