OMGPOP is a flash based gaming portal with social networking features. Play over a dozen multiplayer minigames with people around the world. Make friends, upload pictures, earn achievements, and buy items to customize your avatar!
Publisher: OMGPOP
Playerbase: High
Graphics: Medium
Type: MMO / Minigames
EXP Rate: High
PvP: N/A
Filesize: N/A
Pros: +Dozens of minigames. +Achievements, rankings, stat tracker. +Casual friendly, broad appeal.
Cons: -Mainly a casual portal, no long term draw. -Lackluster social networking tools. -Some games & features require payment.
Overview
OMGPOP Overview
OMGPOP, originally called iminlikewithyou, is a flash based website that mixes causal-friendly games with social networking. Users can create a profile, make friends, and play various multiplayer minigames. Most of the games are based off classic internet hits which means most users will be familiar with them. Players can use both in-game currency and premium currency to purchase customize items to customize various features on the site. Each game has a ranking board, and players can earn levels in each minigame. There's no goal, but a slew of achievements provide some direction. OMGPOP is a great way to introduce friends and family to online gaming.
Games - Balloono, Ballracer, Blockles, Booya!, Checkers, Dinglepop, Draw My Thing, Fourplay, Gemmers, HamsterJet, Hit Machine, Hover Kart Battle, Hover Kart Racing, Hover Kart Party, Jigsawce, Letterblox, Missle Command, Pool, Putt Putt Penguin, Typow!
Chat Games - Unscramble, Rock Paper Scissors, Trivia, Spin The Bottle, Poll Positions Lite, Omgfife, Lottery, Hangman, Fireworks, Defuse, Coin Party
Star Member Only Games - 9 Ball Pool, Tracism, Hamster Battle,
OMGPOP Screenshots
OMGPOP Featured Video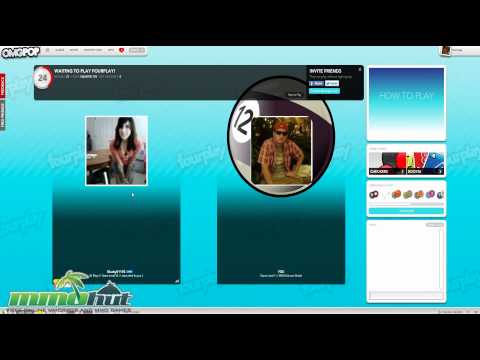 Full Review
OMGPOP Full Review
Coming Soon…
Screenshots
OMGPOP Screenshots
Videos
OMGPOP Videos
Links
OMGPOP Links