Overview
Ninerift Overview
Ninerift combines the elements of traditional role-playing games with a challenging combat system. Each player has an arsenal of military units that they control. These units vary in abilities and must be used strategically to win battles. Slay hundreds of Demonic Gorgons and Death Dragons. Much like Ninja Saga players can wage war against each other in a designated PvP arena Battleground. Fight in parties, chat with friends, and explore. Complete quests or play fun mini-games. Similar to its predecessors Fresbo World and Blingtown users can design and decorate their character's home using a blueprint feature. Go on an adventure in a mystical world where adorable Plushies roam.
Military Units – Consist of Warriors, Shooters, Thieves, Suicide Bombers, Dragon Riders, Dynamite Mines, and Cannons.
Ninerift Screenshots
Ninerift Featured Video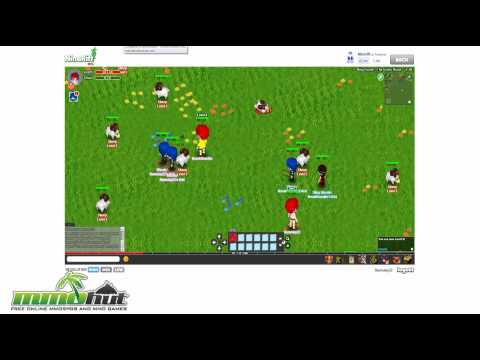 Full Review
Ninerift Full Review
By Ange Perdu
Ninerift is a 3D browser based fantasy themed MMORPG set in a mystical land where vicious monsters have taken over. Players become heroes determined to bring peace back to the world. Each character is armed with military units for combat. Kill ancient beasts using strategy. Accomplish tedious quests while exploring the vast kingdom. Perform jobs for local townsfolk and play an assortment of mini-games to earn points redeemable in NPC shops. Customize your hero and decorate their home. Add furnishings to personalize. Chat and visit with friends or wage war in the PvP Battlegrounds. Players can move up the ranks while attempting to save Ninerift.
Red Horn Sheep & Gorgons, the Gameplay
Most of the gameplay in Ninerift involves questing, fighting, and performing various jobs for local townspeople. Scattered throughout the town are NPCs with available quests. Tasks vary from simple to more complicated missions. Heroes may have to kill 10 Red Horn Sheep or activate the Ancient Mayas rune fragments located in the East. Each quest has a higher level of difficulty as a player levels up. This makes questing in parties almost essential later in the game. Different hostile monsters inhabit the planet. Sometimes these creatures will attack a player while passing through. Heroes are equipped with military units. These units do the fighting for you. Players simply click to choose their troops and the desired target. Select armed warriors, sling shot shooters, thieves, mummified suicide bombers, elite dragon riders, handy dynamite mines, or cannons to defeat enemies.
Users can select various types of units to form strategized attacks on monsters. Challenging foes like the Ancient Gorgon or Ghost Dragon will require players to work with friends for a victory. The gameplay can seem slow paced at times especially when tackling a quest requiring users to find specific creature's horns only visible after slaughter. The lengthy period of grinding is fun with a party of friends but solo it feels more like work. Players can also perform jobs or chores for villagers. These missions give heroes additional experience and points that can later be redeemed. Help citizens in need with small errands like collecting eggs, weaving, or moving bricks. There are also a handful of mini-games for earning points that players can do as well.
Crafting or Shopping
Although many of the NPC shop categories are limited there are a few nicely implemented themes and features. In the Clothing Shop players can browse various items. Clicking on a particular outfit and pressing shift automatically tries on the ensemble for your hero. Users can play around with different looks before purchasing. Choose from over a dozen costumes and accessories. Change your hero's appearance by eye color, hairstyle, or even special faces such as the mad scientist scowl. Avatars resemble the cute anime style characters in games like WonderKing.
For their home players can purchase aquarium tanks, giant LCD TVs, grand pianos, tables, couches, clothes racks, dressers, bright orange sink corners, stoves, rare plushie beds, retro sliding wardrobe dresser, rugs, potted plants, Zen floor lamps, and colored room dividers to spruce up the place. All items either cost points or credits. Ninerift also has crafting and a unique blueprint feature. Stone quarries placed throughout the world allow users to mine for stone, gravel, and gold ore. These materials can be crafted into special décor items. Form benches, colored tiles, and statues. Blueprints and special block stacks sold in shops let players alter the shape of their home as well. All of these options give users a challenging but fun way to customize on their own.
PvP Battleground Throwdown
Ninerift features an easy to use chat interface that allows users to quickly add friends and socialize. There's a list of cool emotions players can activate during chats. The game has great multiplayer aspects. Friends can fight together as a party or form a guild. Guild masters hold the power to assign positions or demote members. Heroes can take on the high ranking role of guild officer or a basic member. Conquer quests together, play games, or go against rivals in PvP battles. Players can really interact with each other in fun ways through mini-games or fighting. For example in the mini-game Pass the Bomb heroes form teams with up to 5 players. A ticking time bomb is passed around with a detonation time. Each player must decide to shake it, skip, or perform a trick while holding it. Points are given for daring acts. The team with the highest score before it goes off at the end of the round wins. Similar to Ninja Saga players are able to wage war against one another in the PvP Battlegrounds. Anyone can enter the practice free-for-all arena to perfect strategized attacks. Only heroes who've reached level 7 or higher can participate in official PvP battles. Players are divided into groups of 5 to wage war. Each hero must position their military units and attack. The last team still standing will win. Scores are tallied up displaying the number of kills, deaths, and damage.
Final Verdict: Good
Ninerift is a fun free-to-play browser based MMO that incorporates role playing and real-time strategy elements. Players enter a magical world besieged by ancient monsters. Control a variety of military units and stage attacks on foes. Explore the depths of the Megi Forest to the Otha East while chatting with friends. Complete challenging quests and play an assortment of mini-games. Go toe-to-toe in chaotic PvP battles with other heroes similar to Ninja Saga. Kill hordes of Demonic Gorgons. Although the items in the NPC shops are limited users can still customize their character and purchase a puppy or pig as a pet to care for. In Ninerift there's plenty to do. Fans of fantasy themed RPGs will thoroughly enjoy this dragon inhabited planet.
Screenshots
Ninerift Screenshots
Links
Ninerift Links