Overview
Neopets Overview
If you haven't played Neopets yet, you're missing out. It's one of the most detailed and content rich free MMO browser games out there. Neopets is set in the virtual world of Neopia where players can do anything from raising their own virtual pet to battling others. Join a guild and make friends or simply play some of the games 150+ original flash games. Theres something for everyone in Neopets. Just a heads up though, the game is intended for a younger audieence, so the childish themes may be a turn off for some gamers. Personally, I think it's a solid browser based MMO with a  large community which makes it well worth trying.
Neopets Screenshots
Neopets Featured Video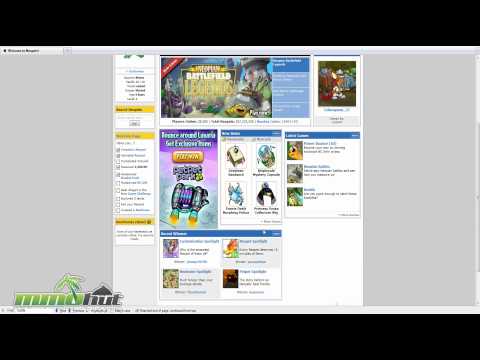 Full Review
Neopets Full Review
By Omer Altay
Perhaps calling it an 'MMO' is a bit of a stretch but the game is massively multiplayer and has a large online game world, the only thing it's really missing is a real time persistent world, but it's still has enough MMO like featured for it to be labeled a browser based MMO. The one thing I'd like to point out right away though is that the game is aimed at a younger audience, so that may be a turn off for some older games. Neopets was actually one of the first browser based games I've ever played and it's still around today, bigger and better than it was when I first played it years ago. It's actually the first major 'virtual pet' and its enormous success has led to the launch of many new and similar sites, but I encourage gamers to avoid those copycat sites as they don't have nearly as much content as the
Welcome to Neopia
Neopets is a 'pet raising' MMO that is set in the virtual world of Neopeia where players pick a pet, also called a 'Neopet', to raise and care for. These virtual pets can level up, train and even fight each other in the game's 'battle dome'. Each Neopet has four basic 'stats', they're Level, Speed, Strength, Defence and Intelligence. Each advances indpendently from the rest; players gain levels by exchanging mystical stones called 'codestones' at the game's training facility while the games other stats increase during chance events. Battling though is only a small aspect of the game though, as Neopets offers a lot more to do than just battling. I would actually argue that the game's social aspects and virtual economy are more engaging than the 'pet raising' / 'battling' components of the game.
It's the Economy, Stupid!
What makes Neopets so enjoyable is that there are literally tens of thousands, if not hundreds of thousands, of unique items in the game that players can purchase for their pets or even collect. Items range from weapons to food to rare collectible gems. Players can earn money, or neopoints, through numerous methods, but the easiest way to do so is to play the flash games on the website. Neopets offers well over 150 high quality flash games and the higher the score a player gets the more neopoints they earn. Each game can be played an unlimited amount of times, but players can only 'send in their score' for neopoints only three times a day per game. What I like about this system is that it rewards players based on skill. The better the player, the more in game money he or she earns.
Another aspect of Neopets, which I believe is the most impressive, is the games massive virtual economy.  Players can trade items in the trading post, play the virtual stock market, start their own store, bid in the game's auction house and so much more. The game's bank even gives interest, so those that save their neopoints can get a hefty return in interest just by putting their money in the bank. Neopets just has so much to do that just trying to list everything would be incredibly difficult. The game's 'social' aspect alone trumps that of most standalone social MMOs like Habbo, Gaia Online and OZ World as the size of the community in Neopets is simply enormous. Just about every corner of the game's community is incredibly active from the forums to individual 'guilds'.
There's no place like Neohome
One incredibly interesting feature in Neopets is the game's player housing. All players start off with a basic house in 1 of 19 in game regions from the fiery lost desert to the mystical faerieland . Each house can be customized to the players tastes, and with thousands of different kinds of furniture and house décor, the sheer number of possible home designs is nearly limitless. The folks running Neopets features the best looking home every week on the homepage, so people that are into customizing their own virtual home will certainly enjoy this part of Neopets.
Final Verdict – Great
The fact is, even though Neopets is aimed at a younger audience, it's still one of the best MMO browser games out there. The sheer amount of content is mind boggling and the community is enormous. Neopets is certainly worth checking out.
Screenshots
Neopets Screenshots