Overview
Moshi Monsters Overview
Moshi Monsters is a free to play browser game that's a mix between a virtual pet site and a social network for kids. Players adopt one of six monster types and are taken to their very own home which can be customized with new furniture purchased with Rox. The currency in Moshi Monsters, Rox, is earned by playing puzzle and learning oriented mini games like the kind found in Nintendo's Brain Age series. Exploring the brightly colored Monstro City and making new friends is also important and Moshi Monsters gives kids plenty of ways to safely interact. To access certain regions of the world such as the Port, players must become paying members. The six types of monsters currently available are:
Katsuma, Diavlo, Furi, Zommer, Poppet, Luvli
Moshi Monsters Screenshots
Moshi Monsters Feature Video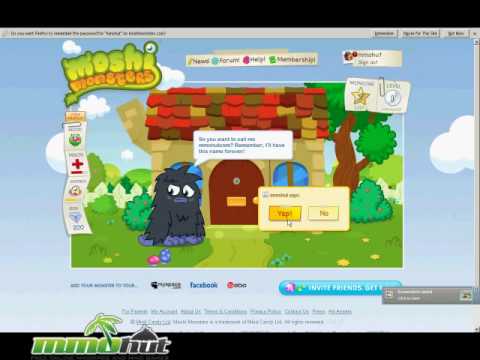 Full Review
Moshi Monsters Full Review
By, Erhan Altay
Since the success of Club Penguin, browser based games aimed at young children have been sprouting up rapidly. Mind Candy, the UK developers of Moshi Monsters, have taken the social networking features of games like Club Penguin and SpineWorld and combined them with the virtual pet concept of sites like Neopets. The end product is an easily accessible, brightly colored, child friendly experience that has already attracted millions of players from around the world.
Adoption Clinic
Unlike Neopets where players may chose from hundreds of monsters, Moshi Monsters makes the process much simpler with only six options. The name of each monster reveals what sort of creature it is, for example a 'Katsuma' is a cat like monster, 'Diavlo' is a small devil like monster, and 'Furi' is a hairy yeti. After selecting a monster, players can chose from around 8 primary and secondary colors to give their pet a unique appearance. Unfortunately this is the extent of appearance customization though paying members can later give their pets far more in-depth paint jobs. The game requires players to confirm their email address and asks for their age, country, gender, and birthday. Naturally I entered myself as a 120 year old man from Zimbabwe and was ready to enter Monstro City.
Everyone's Got a Home
New players are first shown the inside of their barren home. Player housing plays a large role in Moshi Monsters, each player's home serves as their launching pad from where they access the rest of the environments. A series of text prompts explains the game's basics and rewards them a starter kit which contains a slice of cake and a piece of furniture. Items players purchase or earn are placed in their treasure box which can be accessed by clicking on the treasure box icon on the right side of the game window while in your home. Placing furniture is a simple drag and drop progress and there's plenty of room to decorate though players must manually scroll left and right to see the full extent of their home. A potted plant serves as a 'friend tree' which acts as the friends list in Moshi Monsters. A pin board allows players to leave notes in their friend's home which can be read later. Clicking on the large door takes players to the world map menu from which players can travel to other locations.
It's a Small World Afterall
Compared to similar games, the world in Moshi Monsters is relatively small. The game is still new, it launched in April 2008 and has since only added a few new locations such as the Port which is a members only area. Monstro City is made up of two districts: Sludge Street and Main Street, each with several stores and other attractions. There are several clothing vendors offering various styles such as gothic/dark accessories in the Zommer store and more 'cute' styles in the Luvli store. Two minigames are also available in Monstro City, these are Flutteryby Field and En-Gen. The first is a simple action game where players run around catching butterflies with a net. Butterflies spawn in several hues, each with a different point value and players continue to catch them while avoiding the bugs that appear on the ground. Hitting the bugs causes your life meter to deplete and the game end when the meter is emptied. En-Gen is a simple puzzle game involving colored blocks. Players can rotate groups of four blocks with the aim of lining up four or more blocks of the same color. This process removes those blocks from play and earns the player additional time. New blocks will continue to spawn and new colors will be added as the game progresses until, eventually, the player cannot keep up. Both games are available in easy, medium, and hard mode.
Crystal Palace
The only other major location accessible to free players in the Puzzle Palace located near the top of the map. Here gamers can play their daily puzzle round which rewards a large amount of Rox, the currency of Moshi Monsters. There are a large variety of short puzzle micro-games similar to the ones found in Nintendo's 'Brain Age' series. Some games have you do simple arithmetic while others have you discern shapes and colors. All games are repeatable but the rox earned is considerably lower than in the daily puzzle which, as the name suggests, can only be done once per day. Playing puzzle minigames also earns experience for monsters which enables them to level up. The two minigames located in Monstro City also reward very few rox so it is the daily puzzle that players will most interested in completing each day. The only other feature worth noting is 'moshlings' which are like petpets in Neopets. Moshlings are attracted to plants which players must grow in their very own gardens. Seeds can be purchased in town and must be mixed-and-matched to entice various moshling breeds.
Gotta Pay The Toll
Astute players will notice that the path leading from Monstro City to the Port is barred by a sleepy security guard who only lets through paying members. Like many games of its kind, including Disney's Pixie Hollow, many parts of Moshi Monsters are free to play but full access requires a monthly subscription. The standard monthly price is $5.95 a month but small discounts are given for bulk purchases. Paying for 6 months in advance brings the monthly cost down to $4.96 and paying for a full year brings it down further to $3.95 per month. The benefits unlocked by being a member can be read online and include access to the port area, the ability to attract additional moshling types and access to more in-depth appearance customization for your adopted monster. Moshi Monsters is a new comer to the crowded market of browser games geared towards kids and it has already managed to earn its place. Already the game has attracted 1.5 players from around the world and continues to grow at a fast rate. Hopefully the developers won't forget the free players and will add new environments to explore and mini games to play.
Final Verdict: Good
Moshi Monsters is a simple, child friendly game that distinguishes itself as a puzzle oriented game that could help young minds develop. The pet raising and social networking features help kids stay connected while the brightly colored animations and minigames add some level of gameplay. The limited number of environments and minigames keep Moshi Monsters from earning a higher score.
Screenshots
Moshi Monsters Screenshots
Videos
Moshi Monsters Videos
Moshi Monsters Character Creation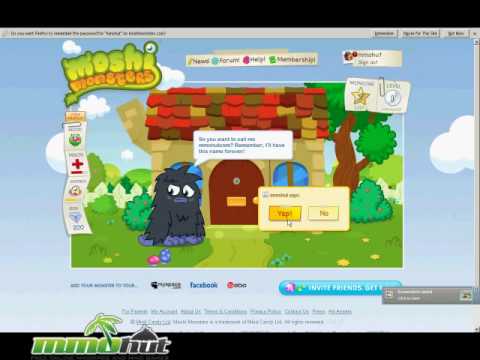 Moshi Monsters En Gen Minigame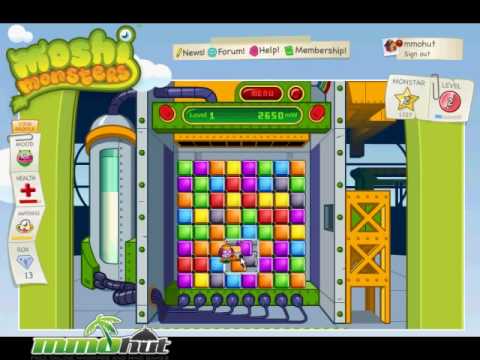 Moshi Monsters Puzzles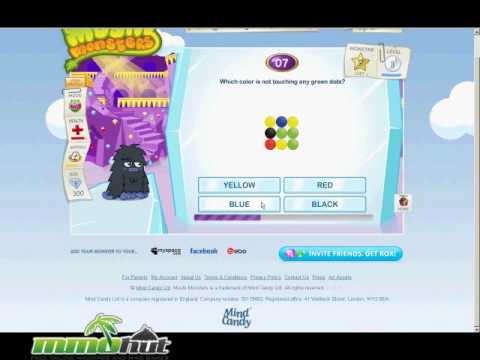 Links
Moshi Monsters Links
Moshi Monsters Official Site