Majesty is a 2D browser based fantasy MMORPG that incorporates strategy gameplay elements. Players chose from three rival factions and progress by completing quests and battling enemies using the games automated, turn-based combat system.
Publisher: 77.net
Playerbase: Low
Graphics: Medium
Type: MMORPG
EXP Rate: High
PvP: Open
Filesize: N/A
Pros: +Blends strategy and RPG gameplay elements. +Auto-navigation feature. +Unique combat system. +Train soldiers, equip heroes, and more.
Cons: -Poor English translations. -Repetitive gameplay. -Progression feels a little too automated.
Overview
Majesty Overview
Majesty combines the strategy aspects of games like Evony with RPG gameplay elements. Players chose from three rival empires and must prove their worth as leaders to their faction commanders. Quest driven progression introduces players to all the game's features step-by-step. Players must generate wood, stone, iron, and coin by maintaining and improving their city. The RPG half of the game involves fighting both AI opponents and other players in quick simulated battles where military units are lead by heroes. Majesty is similar enough to games like Heroes of Gaia to be easily picked up, but original enough to standout. The English translations aren't great, but odds are players won't need to read any of the text. If you're a fan of traditional browser MMORPGs, Majesty is worth a look.
Empires – Alexander, Roman, Charlemagne
Majesty Screenshots
Majesty Featured Video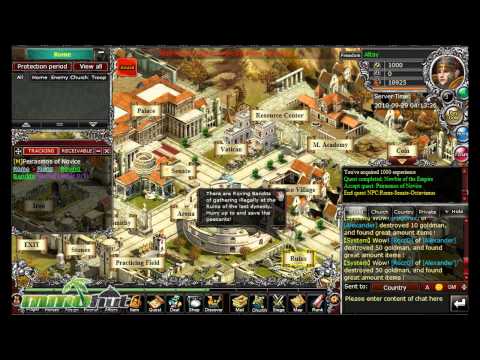 Full Review
Majesty Full Review
Coming Soon…
Screenshots
Majesty Screenshots
Links
Majesty Links