UPDATE: This game has been shutdown and is no longer available
Overview
Imperion Overview
Imperion is a strategy game designed by the same folks behind the classic, and still widely popular, Travian. Unlike most browser based strategy games, Imperion is set in a science fiction setting. No Orcs or Elves here, at least not in the traditional sense. Set in the year 2137, Imperion centers around the ongoing conflict between three sentient races vying for control of the galaxy. Before taking part in any great cosmic battles, player will have to build up their colony one building at a time. Eventually, new planets can be settled and new mines can be set up on asteroids. Like other strategy games, Imperion takes a great deal of patience, especially during the early stages. The end game consists of joining alliances and waging war across the stars. Imperion can best be compared to games like Astro Empires, Space Invasion, and Ogame.
Species:
Xen – After centuries in captivity, the lizard-like Xen have finally developed their own space faring civilization. Their biochemical technology allows the Xen to construct vast fleets rapidly, but at the cost of defense and power. The Xen are recommended for experienced and constantly active players.
Terrans - Humans are the masters of improvesation. Quickly adapting to their surroundings, the Terrans have copied many designs from the more advanced Titans. Terrans are motivated to constantly expand their reach by extracting more and more resources from asteroids, debris fields, and planets. The balanced, jack-of-all-trades faction.
Titans - The oldest intelligent race in the known galaxy. Titans were exploring space while humans still lived in caves. They use their advanced technologies to defend themselves and their interests, only resorting to war as a last resort. Recommended by defensive players.
Imperion Screenshots
Imperion Featured Video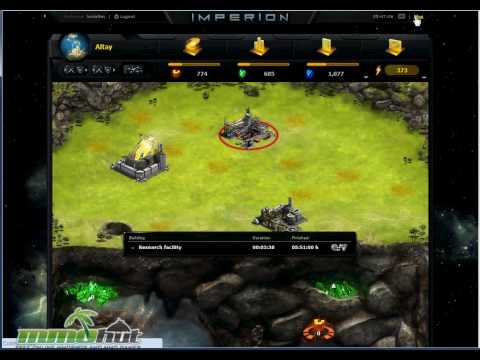 Full Review
Imperion Full Review
Coming soon…
Screenshots
Imperion Screenshots
Links
Imperion Links