Overview
Habbo Overview
Habbo, formerly known as Habbo Hotel, is one of the early pioneers of interactive social networking. Players create unique avatars using Habbo's detailed character customization options and enter the game world with their very own room in hotel. Every day players receive a new piece of furniture but if they want more, they'll have to purchase it either with 'pixels' or 'coins.' Pixels are the standard currency while coins require real cash to acquire. Besides player run rooms, there are over a dozen public areas in the hotel including a lobby, several cafes with different themes, a library, gardens, and other rooms to chat in. There are two free to play multiplayer mini games to play,  SnowStorm and Battle, but players will likely spend most of their time making friends and hanging out in each other's rooms.
Habbo Screenshots
Habbo Featured Video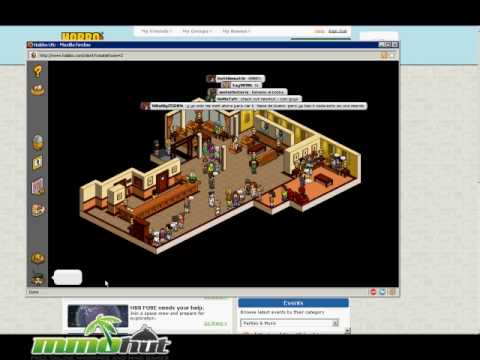 Full Review
Habbo Review
By, Erhan Altay
Habbo is a social networking site published by Sulake, a company based in Finland. It was released in Finland in 2000 but didn't come to America until the year 2004. The game is best known for its unique blocky 2D graphics and the fact that it has been the target of raids by internet trolls from the image board 4chan. Habbo was originally known as Habbo Hotel and ran using Shockwave but has undergone several rounds of updates and now requires Adobe Flash Player to run. Prospective players are advised that while Habbo is a persistent virtual world, it has few gameplay elements and is mostly a virtual chat room geared towards youngsters.
Sign Up at the Desk
Account creation is a simple process and is actually done on the same page as character creation. Players are asked to enter a unique character name, their email address and password on the left while customizing their avatar's appearance on the right. Habbo has a very impressive character creation process, especially for a 2D browser based service. There are 10 face styles, 30 skin colors, 18 hair styles, various hats, hair accessories, glasses, facial hair styles, shirts, pants, shoes, belts, and necklaces to chose from when crafting your unique look. A handy randomize button is available for those who don't want to spend time going through all the menus. Players must enter a CAPTCHA code to finalize their account and are then ready to enter the Hotel. Each character is entitled to one room which can be customized and expanded using in-game currency (pixels) and premium currency (coins.) There are several color schemes available to chose from and players start with a single piece of furniture, a table.
Exploring the Resort
Movement is done exclusively with the mouse, left clicking on your desired location makes your blocky avatar move in that direction. Your room won't be a hot destination when you first start so it's best to head out to some of the public areas and try to make some friends. By clicking the building icon to the left, players access their navigator which allows instant movement between the various areas of the Habbo Hotel. There are 26 'official' rooms including cafes, restaurants, gardens, a library, a lobby, and other locations you might find in a real hotel. Each room has a unique theme but doesn't offer anything different besides visuals. All players can do in these rooms is chat with others, add them as friends and that's about it. There used to be a pool which was the focus of attention by internet trolls who would raid the game dressed as black men in suits equipped with giant afros. Their slogan would be 'Pool's Closed Due to AIDS' and they would physically block the entrance to the area. Sadly, avatars can no longer physically block one another and the entire pool room has been removed by the publishers.
Make Your Own Entertainment
There used to be two free mini-games available in Habbo, SnowStorm and BattleBall. Both have been closed at least temporarily as the game migrants to a new version. I've played both games before and while they do add some entertainment and give Habbo some gameplay elements, they're certainly not the main attraction. SnowStorm is a basic snowball fight game where players gather snow and knock each other down. In BattleBall, players start on large bouncing balls and move across the map leaving tiles they pass painted in a unique color. The player with the most tiles painted in their color at the end wins. Two other mini-games were available before the recent updates, Wobble Squabble and Diving. Both of these games required players to purchase tickets for real cash before playing. Besides these official games, players make up their own games and play them in their rooms. The most popular of these player-run games are Falling Furniture, Cozzie Change, Defend Your Pod, Don' Say Yes/No, and Don't touch the floor. These games are entirely run by the community and require a certain level of trust since the room owner is under no obligation to run them fairly. Other activities players may run are trivia quizzes or other game show like events but these are hardly enough to earn Habbo any gameplay medals.
Upgrade Your Room to a Suite
Habbo requires players to pay for most furniture and room upgrades. There are two currencies in the game, pixels which are earned by simply logging in and playing and coins which must be purchased. Coins cost anywhere from 13 to 20 cents each with a discount given for bulk purchases. Furniture varies in price from 1 coin to 15 coins a piece. Pixels can only be used to purchase the newbie line of furniture branded 'Hello' and other basic features such as special effects (emotes) that your avatar performs. If that weren't enough, there is also a VIP membership which costs 20 coins a month. VIP Club members have access to more areas and receive special furniture each month. They also have more room customization options that are unavailable to non-VIP players.
Age Aware
Habbo's slogan is 'Hangout for teens' but I suspect the median age to be heavily tilted towards the tween or early teen demographic. There just isn't enough here to keep people interested for long. The game's profanity filter is so strict that it is almost laughable. I couldn't even say the word 'mini game', it translated it to 'mibobbame.' Most swear words are filtered and replaced by the word 'bobba' which makes for some hilarious sentences like 'bobba my bobba.' But I guess the appeal here isn't for the average gamer but for kids interested in a virtual chatting experience. But even other social sites like Gaia Online and OMGPOP are concentrating heavily on gameplay features so the lack of progress on this front really leaves Habbo feeling outdated. The game is still widely popular in the USA and Europe with thousands of concurrent players logged in at any given time. The game hasn't performed as well in China or Russia but still has momentum here so there is still time for Sulake to focus on adding more game content.
Final Verdict: Fair
Habbo is a casual social site with great character customization, a large world to explore, a unique and attractive visual style and plenty of room customization features but comes up short on gameplay. Even other social sites are rapidly adding gameplay elements. Habbo has a lot of catching up to do
Screenshots
Habbo Screenshots
Links
Habbo Links