Goal Line Blitz is a text based American Football simulator that's played right on your browser. Create your own players, join AI or player-run teams, participate in leagues, train your players' stats, and watch detailed play-by-play replays of every simulated game! Goal Line Blitz is an extremely detailed simulator that will appeal to dedicated fans of the sport.
Publisher: GoalLineBlitz
Playerbase: High
Graphics: Low Quality
Type: MMO
EXP Rate: Slow
PvP: N/A
Filesize: N/A
Pros: +Detailed American Football simulator. +Large, active community. +Upgrade your stadium, set ticket & beer prices.
Cons: -Must pay or gain referrals for advanced features. -Consists of simulated games, no player interaction.
Overview
Goal Line Blitz Overview
Goal Line Blitz is a Football fanatic's dream come true. If you find yourself analyzing game stats for hours on end or are a fantasy football addict, than Goal Line Bltiz is the browser game for you. Though players directly take part in the simulated games, they can create unique characters and chose their position, stats, skills, and training. Each season in Goal Line Blitz lasts for 40 days and consists of 16 season games, a pre-season series and playoffs / scrimmages. New players start with 400 Flex Points which are the main currency in GLB. Players can purchase individual characters or entire football teams using Flex Points but the only way to earn more than the initial 400 per season is by purchasing with real cash or referring your friends to the game.
Goal Line Blitz Screenshots
Goal Line Blitz Featured Video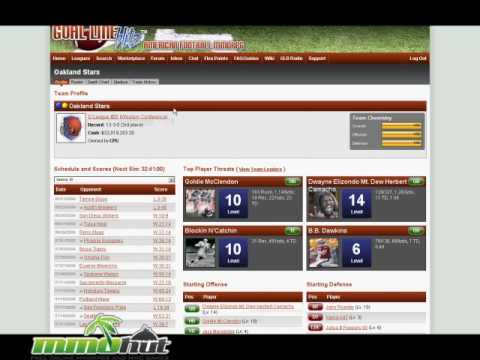 Full Review
Goal Line Blitz Review
Coming soon…
Screenshots
Goal Line Blitz Screenshots
Links
Goal Line Blitz Links