Farmerama is a 2D browser based farming sim similar to Facebook's Farmville. Plant crops, pick fruit trees, raise animals, and complete missions to earn cash and experience. Expand your farm, and invite friends to be your neighbor in this animated browser game.
Publisher: BigPoint
Playerbase: Low
Graphics: Low
Type: MMO
EXP Rate: Low
PvP: N/A
Filesize: N/A
Pros: +Will run on almost any machine. +Can be played in short bursts throughout the day. +Large variety of farm animals & crops.
Cons: -Limited player interaction, feels empty without Facebook integration. -Repetitive gameplay.
Overview
Farmerama Overview
Farmerama is BigPoint's answer to Farmville, a popular 'social' game that's gained enormous popularity on Facebook. While the benefits of being a standalone game are evident, Farmerama does suffer from a lack of interactive gameplay. Players will rarely communicate with other farmers outside of the forums. That doesn't mean the game can't keep rural enthusiasts entertained. Simple gameplay and a large variety of crops to plant, trees to pick, and animals to raise helps keep Farmerama fresh. Farming may not be every gamers ideal genre, but as Harvest Moon proved on consoles, it can be quite addictive. Players gain experience and country coins by harvesting crops and completing delivery missions. Country coins are used to purchase new seeds, animal buildings, and other goodies. Some items and services can only be purchased with Barnyard bucks which must be purchased with real cash or exchanged with country coins at a 10:1 ratio.
Farm Animals - Chickens, Rabbits, Goats, Ducks, Turkeys, Sheep, Pigs, Cows, Horses, Bees, Fish, Ostriches, Camels, Kangaroos
Farmerama Screenshots
Farmerama Featured Video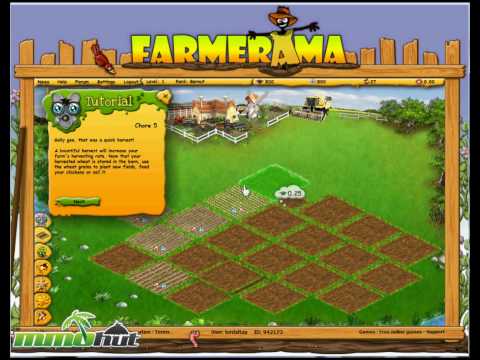 Full Review
Farmerama Full Review
Coming soon…
Screenshots
Farmerama Screenshots
Links
Farmerama Links