Overview
Evony Overview
Evony is a tradition browser based strategy game. Set in a medieval world, Evony offers players a slew of features to help out during the beginner phase. A huge list of quests are available and reward players with bonus resources and gold for constructing certain buildings. Newbie packs come with premium items that temporarily increase your resource production but wear off over time. The game is open ended, players are free to build up their city and eventually settle new ones. The main sense of purpose comes from PvP, players can raid towns or form alliances and participate in much larger conflicts. Evony has a bright and organized graphic display and is easy to pick up and play.
Resources – Lumber (sawmill), Iron (ironmine), Food (farm), Stone (quarry)
Buildings - Town Hall, Cottage, Warehouse, Inn, Feasting Hall, Embassy, Marketplace, Academy, Rally Spot, Barracks, Beacon Tower, Forge Stable, Workshop, Relief Station, Walls
Military Units – Worker, Warrior, Scout, Pikeman, Swordsman, Archer, Cavalry, Cataphract, Transporter, Ballista, Battering Ram, Catapult
Evony Screenshots
Evony Featured Video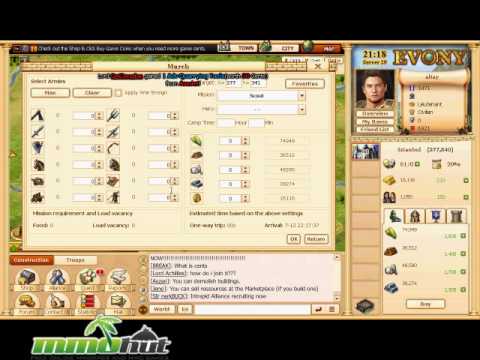 Full Review
Evony Full Review
By, Erhan Altay
Evony is a browser based strategy game with a medieval theme that was released on May 6, 2009 and reported 500,000 active accounts just one week later. The number of game servers went from 6 to 30 in two months. How did Evony accomplish such impressive gains? Through an unrelenting advertising blitz. Evony ads have been all over the internet recently and most of them are carefully crafted to attract an internet audience. You wouldn't believe how ridiculous Evony has gotten with its advertising campaign, it started with well endowed women in medieval costumes with the phrase 'save the queen' (there is no queen, by the way) but soon regressed to nothing more than a close-up of a pair of breasts. There is a game behind this gimmicky ad campaign so read on if you're still interested!
Beginner Friendly
Account creation is a breeze in Evony, players simply enter their email address, which acts as their username, and provide a password. Email verification isn't even required so players can jump into the action right away. The first screen you'll encounter after the game loads is the quest menu. The only text worth reading in a quest is the objective which is usually something along the lines of 'build x.' Completing quests provides beginners with extra resources and since you'll need all the buildings the quests require anyway, it makes progression that much easier. The first quest involves building a cottage than upgrading it, a process that can be done almost instantly. Like in Freesky Online, buildings and upgrades that normally take 5 minutes or less to complete and be constructed instantly by hitting 'speed up.' Buildings or upgrades that take more than 5 minutes can be completed instantly, but only by using the game's premium currency called 'cents.'
Manage Your Empire
There are four key resources in Evony, food, lumber, iron, and stone. Each is generating from a different building which can be constructed outside your city's gates. The number of each resource generating building and their upgrade levels effect the rate of resource generation. Additionally, players can adjust the production rate of each resource at their Town Hall. The default is set at 80% but can be raised to 100% Taxation, which controls your gold income can also be adjusted though a higher rate is likely to displease your population. Luckily all this and more is explained through various quests which act as the game's tutorials. The ability to automatically build and upgrade means new players don't have to wait for their initiate buildings to be constructed, something that plagues older strategy games like Astro Empires. Another benefit Evony enjoys is its relative youth. This means the graphics are much more presentable than older strategy games like Tribal Wars or Travian.
The Waiting Game
Besides quests and the ability to instantly build certain buildings, Evony offers new players several free premium others through a 'newbie pack.' These increase your resource gathering rate by a certain percent but only last 24 hours. They help, but new players are likely to have low resource rates in the first place so even a 25% gain won't seem like much. Like most browser games, Evony isn't meant to be played for hours on end. Instead, checking up on your city for a few minutes a day is more efficient. Unfortunately, Evony has no queue system. Most games of this nature let players queue a long list of buildings and upgrades so that when one finishes, another automatically begins. That is not the case here. The fact that only a single building can be under construction at a time means you'll have to check in on the game often. Eventually, you'll use up your few free premium items that allow instant construction of longer-term buildings and will be forced to wait several hours at a time for a single building to finish construction. This can no doubt get irritating but is a familiar theme in browser strategy games. The trouble Evony is that players willing to pay up can ALWAYS move things along instantly. Even the four primary resources are for sale at any time at a conversion ratio of 1 cent per 4000 resources.
Heroes and Soldiers
Combat troops can be trained at the barracks, once constructed. There are currently 12 different military units ranging from the lowly 'worker' to the powerful siege catapults. Troops are used to occupy nearby valleys which provide bonuses to resource production. Valleys come in various types such as Hills, Deserts (iron bonus), Swaps, Lakes, Grasslands (food bonus), Forests (lumber bonus), and others. Troops are also required to scout or raid the towns of other players. All military expeditions must be led by a Hero recruited from the Inn. Heroes come in many levels and have several stats including attack, loyalty, politics, and intelligence. The higher level a hero, the higher its salary will be. Heroes you recruit gain experience through combat and can level up and grow in stats along with your town. One hero can even be placed as the mayor of each town you control. The heroes a play purchases are stored at the Feasting Hall which can hold up to 10 heroes when fully upgraded. New players are given a 7 day safety period during which they cannot be attacked. Thanks the heavy marketing, most players who sign up won't actually play Evony for 7 days which means a huge proportion of towns will be abandoned. But if you're unlucky enough to start near a long term player, you'll need to beef up your defenses to make a potential raid too costly. This means upgrading your walls and training a large army.
Play Discreetly
Oddly, one of Evony's slogans is 'play discreetly.' I'm not sure what is meant by this but I suspect it has something to do with the developers lack of mastery of the English language. While there are no spelling mistakes in Evony, a lot of the text is written poorly. How much this annoys you is a personal matter but does stain the otherwise sharp presentation. The game does have an addictive quality to it, I found myself spending several hours with it and awaiting the construction of each new building and the completion of each now technology at the Academy with baited breath. Evony isn't a very complex game which is actually a good thing since players can wrap their heads around it within an hour. There are only 19 buildings and the maximum level for each is 10. Each player starts with a single town but can settle up to 9 others for a maximum of 10. At times it can get annoying if you overlook upgrading something, for example the number of military expeditions you can have out at a time is controlled by the level of your 'Rally Spot' building. I wanted to settle another town but was told I couldn't until I upgraded my rally spot, so I did. That unplanned upgrade cost me 2400 lumber, which I needed to in order to have the minimum 10,000 required for settling a new town. Because of that, I had to wait another 15 minutes until my resources were replenished.
Final Verdict: Good
Evony is a great looking strategy game for the browser that has already attracted a huge audience. The gameplay is easy to pick up and rewarding. Unfortunately, the game's advertising campaign has attracted a lot of people that have no interest in a medieval strategy game. Another problem with Evony is the huge scope of benefits players receive if they are willing to spend some cash on the game which causes severe balance issues.
Screenshots
Evony Screenshots
Links
Evony Links