UPDATE: This game has been shutdown and is no longer available
Europe 1400 is a 2D browser based MMO where players take on the role of traders and merchants. The game has a complex economic and political system where players produce goods and can run in elections for secular or church offices.
Publisher: GameForge
Playerbase: High
Graphics: Low
Type: MMO
EXP Rate: Low
PvP: N/A
Filesize: N/A
Pros: +Original gameplay style. +Hold political and church offices. +Earn achievements. +Upgrade Resident and Workshop.
Cons: -Slow paced gameplay and progression. -Paying players receive large advantages. -Dated engine, must reload from page to page.
Overview
Europe 1400 Overview
Europe 1400 is a browser based MMO that focuses on trading and politics set in the 14th century. It is in the same genre as Age of Ocean and Business Tycoon Online, but the medieval setting helps it stand out. Europe 1400 includes a complex economic system where players can produce various goods and trade or sell them in different towns. Players can also run for political office, positions in the church, or even positions in the shadowy black market. Cooperative with your fellow traders, or undermine them with blackmail, sabotage, or political manoeuvrings. Upgrade your residence and workshops, expand your economic empire, and start a dynasty by training successors.
Europe 1400 Screenshots
Europe 1400 Featured Video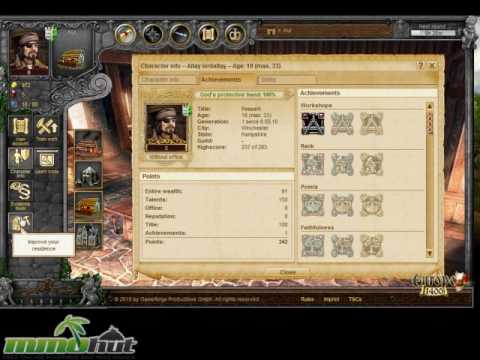 Full Review
Europe 1400 Full Review
Coming soon…
Screenshots
Europe 1400 Screenshots
Links
Europe 1400 Links