Escaria is a 2D browser based strategy MMO where players build up their civilization on a series of islands. Chose to play as the Romans or Vikings, each of which has their own strengths and weaknesses. Upgrade your island, make alliances, and raid rival nations!
Publisher: Inqnet GmbH
Playerbase: Medium
Graphics: Medium
Type: MMORPG
EXP Rate: High
PvP: Open
Filesize: N/A
Pros: +Unique art style. +Island setting sets it apart from other browser games. +Quests provide a sense of direction. +Join or form guilds and raid enemy islands.
Cons: -Slow paced progression. -Repetitive gameplay. -Paying players receive large advantages. -Only 2 factions to chose from.
Overview
Escaria Overview
Escaria is a browser based strategy game where players develop islands into powerful cities. The game is widely popular in Germany and has many interesting gameplay features. Like Lord of Ultima, build placement has an effort on resource generation. There are four key resources in Escaria: Wood, Food, Stone, and Iron. Players also have to keep their population growing. Its even possible to reclaim land from the sea to expand your island! A series of quests helps newbies start out on the right track, but Escaria has slow paced progression so it will take a long time to get established. Those have the patience and enjoy this style of gameplay can look forward to brightly colored visuals and two playable factions.
Factions – Romans, Vikings
Escaria Screenshots
Escaria Featured Video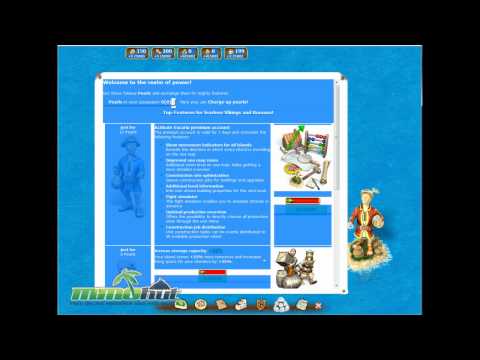 Full Review
Escaria Full Review
Coming Soon…
Screenshots
Escaria Screenshots
Links
Escaria Links