eRepublik is a text based browser game with strategy and social networking elements. Players join one of the world's nations and must find work, train their military skills, and eventually get involved in their nation's politics and wars. The game can be played for a few minutes a day, or much longer if players chose to get more involved.
Publisher: eRepublik Labs
Playerbase: High
Graphics: Low
Type: MMO
EXP Rate: Slow
PvP: Optional Wars
Filesize: N/A
Pros: +Huge global community. +Sleek interface, easy to navigate. +Casual friendly.
Cons: -Slow paced gameplay, limited daily activities. -Not yet fully developed. -Must pay real cash for many features.
Overview
eRepublik Overview
eRepublik is a popular new browser-based strategy MMO with a mix of social networking features. Players create a citizen and chose a real-world country to start their new lives in. A tutorial video where Plato, your mentor, explains the game's basics does a good job at introducing players to eRepublik. Actual gameplay activities in the ERepublik are sparse, players must find a job and can train daily to improve their military capabilities. Beyond that, social interaction is the main focus of the game. Players can organize political parties, create newspapers, and participate in battles against foreign nations. Seasoned players can even start their own companies and hire other players. The publishers are taking a modular development approach so look for additional features to be added incrementally.
eRepublik Screenshots
eRepublik Featured Video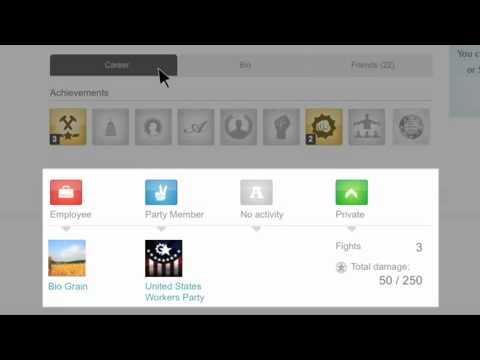 Full Review
eRepublik Full Review
Coming soon…
Screenshots
eRepublik Screenshots
Links
eRepublik Links