Damoria is a browser based strategy game with a classic medieval setting. Players start with a single Castle, and must construct various buildings, train troops, start new settlements, and eventually make alliances and war with their neighbors. Damoria is available in over a dozen languages, but has a poor interface and visuals.
Publisher: BigPoint
Playerbase: Low
Graphics: Low
Type: MMO
EXP Rate: Low
PvP: Open
Filesize: N/A
Pros: +Easy to learn. +Promotes player interaction. +Supports over a dozen languages. +Will run on any machine.
Cons: -Dated UI and graphics. -Slow paced gameplay. -Incomplete translations.
Overvew
Damoria Overview
Damoria is a  strategy MMO hosted by the huge German browser game portal BigPoint. Originally released back in 2007, Damoria offers a simple text & image based interface. The game supports 18 languages and is very popular across Europe. Some translations bugs still persist but do not hinder the user experience. Like most strategy games, Damoria is slow paced and is supposed to be played in short bursts throughout the day. The three main resources are Stone, Wood, and Ore. Additionally, there are four 'gem resources including Diamond, Ruby, Emerald, and Treasure. Players receive one gold, the premium currency, each day but must purchase additional amounts with cash. Gold is used to finish constructing buildings instantly.
Units - Light Infantry, Swordsmen, Axemen, Archers, Spies, Calvary, Armored Calvary, Battering Rams, Catapults, Senators
Damoria Screenshots
Damoria Featured Video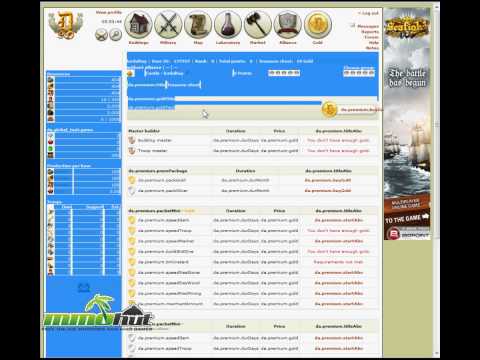 Full Review
Damoria Full Review
Coming soon…
Screenshots
Damoria Screenshots
Links
Damoria Links