Cultures Online is a 2D browser based strategy MMO. Players control Viking heroes and must grow their colony. Cultures Online mixes RPG elements with standard city management style gameplay. Mine resources, go on adventures, train additional heroes, and make with other Viking tribes!
Publisher: Gamigo
Playerbase: Low
Graphics: Medium
Type: MMO
EXP Rate: Low
PvP: Optional
Filesize: N/A
Pros: +Mixes RPG and strategy gameplay. +Original visual style. +Train and equip heroes. +Join or create tribes (guilds.)
Cons: -No persistent world. -Limited PvP options. -Less competitive than other strategy games.
Overview
Cultures Online Overview
Like Vikings of Thule, Cultures Online puts players in the boots of a Viking. Players start with a single hero and must build up a town into a thriving colony. Cultures Online is a bit different than other browser based strategy games. PvP is optional, and heroes play a more active role. Heroes must be used to gather resources like lumber, but Cultures Online also has RPG gameplay. Heroes go on timed adventures and take part in turn based battles. Heroes can level up, equip new armor, and take part in PvP. The game also has a unique art style and nice background music to keep players entertained.
Cultures Online Screenshots
Cultures Online Featured Video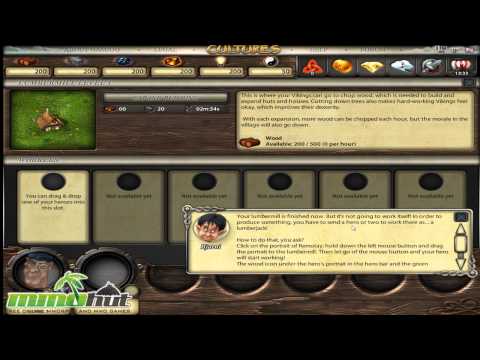 Full Review
Cultures Online Full Review
By, Jaime Skelton
There's a lot of charm about the Viking culture: war-hungry, an impressive fleet, survival in the coldest and darkest of weather, an immense mythology, and those crazy singing kittens. It's no surprise, then, when many video games try to focus on presenting an experience of the Vikings, and it fits well with many strategy and war games. Enter Cultures Online, a browser game based on the Cultures game series, a humorous strategy game series published from 2000 to 2003, and published by gamigo. Be warned, however: this game's guise as a strategy game hides a different style of browser-based game play.
My Viking's Better Than Yours
Everyone in Cultures Online begins as a Viking; there are no factions except the ones created by players through a tribe (guild/clan) system. Instead, players begin by selecting and customizing their first hero. Only the hero's face is ever seen, but the customization for this is stellar, with six total face shapes (three male, three female) and dozens of options included in hair style, nose, eyes, mouth, ears, accessories, and hair color – an expansive selection for a browser-based game that really lets you create the perfect hero to represent you in the world.
Heroes are capable of training among several statistics, and wearing several pieces of equipment. While in some strategy games, heroes only play the part of offense or defense in combat, here in Cultures Online, the hero is absolutely vital to your success: your resource nodes only generate resources if a hero is working in them. Even research must be funded by a Viking working at the Alchemist and generating "ideas" before the building can be learned. A hero's growth is also partially determined by the tasks in town it is given. Heroes, then, are so vital, that tasks must not only be assigned accordingly, but the player must seek to get as many as they can, as soon as they can, to fuel expansion.
Bjarni Is Your Friend
Once a hero is created, players are immediately thrust into the world, but have a helpful tutorial to walk them through city-building and exploring, narrated by Bjarni – a character the player is supposed to remember (at least, presumably, if they had played the Cultures series). Bjarni does a good job on explaining the basics of game play when it comes to city-building, heroes working, and going on expeditions. The tutorial is fairly well thought-out, and beneficial to pay attention to as Cultures Online actually mixes two different game styles.
Strategy, Meet Your Casual Match
During the first few minutes of the game, it's easy to believe you've been placed in another strategy game like Lords Online or Tribal Wars. Once you begin taking your hero on adventures, however, you'll realize that the game is far more like Tanoth, Gladiatus, or BiteFight – a slow-paced, browser MMORPG in which the player has set amounts of actions per day. While players certainly are involved in building and increasing their town, the majority of their actions – revolved around heroes – will utilize mechanics from these turn-based casual games.
The heroes are of ultimate importance in Cultures Online, and in order to make them more powerful, players will have to assign them work of some sort. Work in the town allows the hero to idle in a resource node, gathering a set amount of resources per hour as well as building statistics and experience (lumber mills build dexterity, for instance, which is useful for heroes using one-handed weapons). Alternatively, heroes can go on missions (both random and story). These missions cost a certain amount of Wanderlust (players get 100 per day), and each has its own duration before combat begins. Combat is then automatically rolled and determined by the computer, and lets heroes gain experience, coin, items, and sometimes runes (the micro-transaction currency in Cultures Online).
The Path to Valhalla
Combat is based on a somewhat rock-paper-scissors system in Cultures Online. Heroes can equip ranged weapons, two handed weapons, or one-handed weapons; ranged excels against two-handed, which excels against one-handed, which excels against ranged. It benefits you to have one hero of each type, as missions will show you what you will encounter, allowing you to bring the best advantage to the field.
PvP, on the other hand, is very open. As players are headed to missions, they can see nearby ships on the overhead map. These players can be inspected and, if the player wishes, attacked freely. Likewise, players can pick players out on the ranking boards and select someone to attack and do so. Because PvP is so open – although players can set their desire to PvP through the Watchtower in their town – there's little order, except that created through player tribes and alliances. These may be hard to discover, however, as participating in chat takes over the rest of a player's screen, and few people utilize it because of the game's casual nature.
Final Verdict: Fair
If you're headed into Cultures Online expecting an intense browser-based strategy experience, you'll be sorely disappointed. Although touted as a strategy game, ultimately Cultures Online is merely a Flash-based rendition of text & image browser casual MMORPGs with PvP rankings. While the game has its highlights, including great graphics, a fun and often funny atmosphere, and a little more depth with city-building added into the mix, it remains a game designed for casual play and requiring minimal strategy or effort on the player's part. If you enjoy the casual MMORPG style, you'll love the upgrade in Cultures Online; otherwise, the game will prove tedious or boring to most.
Screenshots
Cultures Online Screenshots
Links
Cultures Online Links