1100AD is a browser-based RTS featuring a rich, historical storyline and accurate gameplay. Since it's launch in 2008, the game has constantly evolved and developed, while being localized in over 20 languages. Focus your efforts on building your cities and your defenses, as you engage in real-time, tactical combat. Hire heroes and train their skills to lead your armies to victory. You can engage in trade with others to gain the resources you need, or take it by force. How you play and rule is in your hands!
Publisher: AmberGames
Playerbase: Small
Graphics: Low
Type: MMORTS
EXP Rate: Low
PvP: Yes – Open
Filesize: N/A
Pros: +Simple RTS that does not require much attention. +Tactical based combat. +Hero advancement to improve your army abilities. + Highly customizable game allowing the player to take a hands on approach. + Beautiful artwork and design.
Cons: -Players may find it too similar to other RTS games. -Resource management can lead to problems. -Open PvP on certain servers. -Clunky User Interface. -Frustratingly long wait times. -Extremely slow start.
Overview
1100AD Overview
1100AD lets you build a medieval city however you want. You develop the buildings and the fortifications, and hire an army to defend it. You also want to ensure you have heroes that can lead the army, so training them is very important. The game has six different servers, each offering a different type of play. Some are strictly PvP, while others are PvE with optional PvP elements. Combat in 1100AD is done in real time, with tactical skill required. You can also allow the game to manage construction, combat, or both, through the in-game AI.
1100AD Screenshots
1100AD Featured Video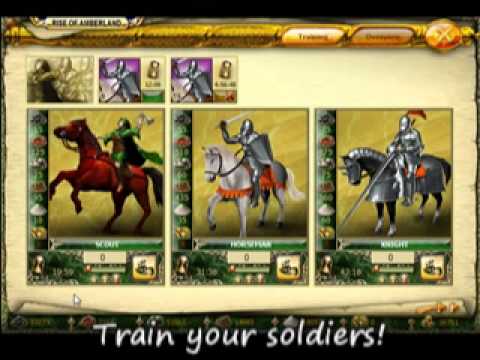 Full Review
1100AD Review
Full Review
by Daniel Dalton
It's extremely easy to actually join 1100AD. You are thrust into its medieval world immediately after signing up, no e-mail verification needed. However, after that the game gets off to a very slow start. The tutorial seems to go on endlessly and it's a very long time until you are introduced to the more entertaining features of the game such as combat. The tasks for the tutorial keep on coming as you tick off objective after objective like a never ending check list. Thankfully the tutorial can be ignored and you can go off to do your own thing once you get bored by it (which is likely to happen). There is significant downtime between objectives as you wait for your various constructions to build, and you can only simultaneously build/upgrade a couple of sites before you have to start queuing the tasks up, inducing further downtime, which will frustrate many people. To put things into perspective, to develop a single Pike man (a grunt) it takes 30 minutes. 1100AD is not a fast paced game by any definition of the word.

Long Live the King!
There are seven resource groups: Coal, Iron, Stone, Wood, Lime, Population, Gold and Diamonds. You collect these resources by building quarries, lime ovens, etc… You get the idea. Diamond and Gold are exceptions. Diamonds can be obtained through the tutorial and quests. The player also receives one free diamond every day if he or she was online that day. Gold is the game's real money currency and can be used to bypass the frequently long waiting times and can also be used to buy Diamond. While Gold cannot be used to buy power directly, it definitely puts the people who pay for the game at an advantage.
My Hero!
As you play the game more it becomes clear that 1100AD has conflicting features that cater to two opposing audiences. The long wait times and no upkeep on soldiers attract the casual gamer, allowing him or her to visit occasionally and play the game in five to ten minute intervals with no need to constantly farm every hour to retain your army (as is the case in similar games such as Evony). The aforementioned long wait times will only deter more dedicated gamers. However, 1100AD forces the gamer to micromanage many situations in game and things that should be simple to execute such as attacking an enemy is made complicated through in depth micromanagement which many casual gamers will find overwhelming. See how these features conflict?
Final Verdict: Fair
It is hard to recommend 1100AD to any one specific audience. However, if you appreciate early Civilization series style & design and can put up with tedious wait times, then you can find a fun experience out of 1100AD
Screenshots
1100AD Screenshots
Links
1100AD Links
System Requirements
1100AD System Requirements
Coming Soon. . .